Season 21 became a hit with trios and duets on NBC's "The Voice." The show has always allowed groups to audition, but this season a total of six groups passed the blind audition phase of the competition.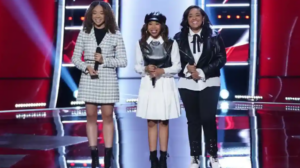 KCK3, a trio of three sisters, sang "No Tears Left to Cry" by Ariana Grande during their Blind Audition. Grande was impressed at the start of the performance before realizing that the group was singing one of her songs.
Blake Shelton, John Legend and Kelly Clarkson all limited the push of a button to the trio, as they thought there would be no chance of picking anyone but Grande as their coach.
KCK3, a trio of sisters, make their mark on The Voice' with Ariana Grande's performance of "No Tears Left to Cry" during their Blind audition