Nick auditioned in New York. He sang "In Your Eyes" by Peter Gabriel. It is unknown how the judges voted, but at least two of them voted "yes", sending him to the next round.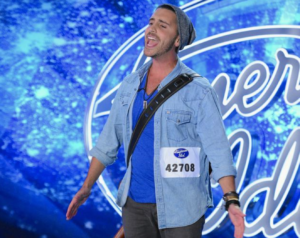 Nick was shown in a montage of contestants who survived the first round of Hollywood Week, along with Quentin Alexander and Zack Kaltenbach. He was later shown in a group called "Team Dimples" alongside Michael Simeon, Jaq Mackenzie and Hunter Larsen singing "Rude" by Magic! For his final solo performance, he sang "Babylon" by David Gray.
"Performing at the House of Blues was definitely a crazy experience. You know, you look around and see pictures of Stevie Ray Vaughan and all these insane musicians and it'll freak you out if you really think of it. And it was cool just too finally play in front of a live audience, because, before, we were singing for each other and the judges. And that was really it. And it was good to see how people reacted to having an actual crowd in front of them."
watch your other important audition… and don't get a golden ticket. But maybe Nick was able to channel some of that feeling into his rendition of Peter Gabriel's (beautiful) song "In Your Eyes"?