Ukrainian helicopters have attacked an oil facility inside Russia, a Russian regional governor said.
Video of the two Ukrainian Mi-24 helicopters striking the oil storage facility in Belgorod with rockets. https://t.co/4Lt5l1Xc3S pic.twitter.com/d5zj4GWjou

— Rob Lee (@RALee85) April 1, 2022
Vyacheslav Gladkov, appointed by Vladimir Putin in 2020, said that two of Ukraine's military helicopters struck a fuel storage facility in the Russian city of Belgorod on Friday after crossing the border at low altitude.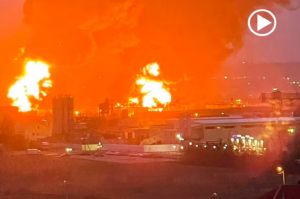 Ukrainian armed forces arranged an ambush on the enemy's column.