The story of an 8-year-old girl born without legs and becoming a gymnast inspires many people around the world. No matter what situation you find yourself in, nothing is impossible.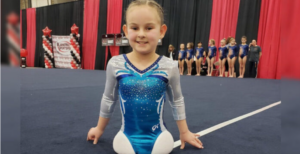 Paige Calendine's parents gave birth to a child without legs, but they did not give up, they decided to enroll her in gymnastics classes at the age of 18 months. Now Paige is a fourth grade at Maysville Elementary School in Zanesville, Ohio and a children's gymnast.
Paige told WSYX, "Parents sign up for their kids to attend gymnastics because they want their kids to have healthy bodies. It was difficult at first, but I got used to it.
Paige trained at Zanesville gymnastics and became known as a determined athlete. The proud parents of little champions, Sean and Heidi, were always behind to support her.
Sean said: "We have been teaching her gymnastics since she was 18 months old, she has been trying hard and getting better and better."
Gymnastics Video of the Day! ❤️❤️

Paige Calendine (Zanesville Gymnastics) BB

Video: @ogccamp#paigecalendine #olympics #artisticgymnastics #IGMag #InternationalGymnast #INTLGymnast #InternationalGymnastMagazine pic.twitter.com/tKCKfiQrT1

— InternationalGymnast (@intlgymnast) March 7, 2020
One of Paige's coaches, Esther Weibel, called her an "important part" of the team.
"Paige has been training here since we were very young […] we did all of the XceL exercises from easy to hard," Weibel told the news agency.
"XceL is like an alternative program in American gymnastics. It's more comfortable for creativity and skills, so we can make it a bit more personal, "she added.
When Paige first joined Zanesville Gymnastics, her other trainer, Mallory Gardner, couldn't believe how strong and nimble she was.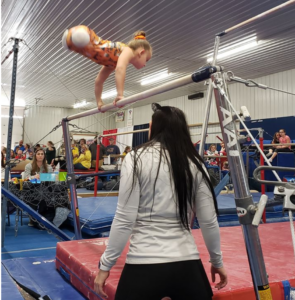 "Paige doesn't let anything stop her," Gardner told the Zanesville Times Recorder.
Paige uses prosthetic legs to move from class to class, but on the mat she can move around comfortably without tools. The people around her need to change, not Paige.
"We have to adjust the way we train her differently from the way we train others. It's not that hard with Paige's help because I know what I can do and how to do it. Gardner confided.
Gardner says Paige has confused the fitness judges since he started playing. The coach said the referees didn't know how to mark her because Paige was the first gymnast in the area to not have lower limbs, according to Zanesville Times Recorder.
However, the efforts and achievements of the 8-year-old girl are the clearest proof of this. On her first time as an XceL Bronze gymnast athlete in October 2019, Paige took first place. She attended the Arnold Sports Festival in Columbus, Ohio, five months later, and that same month was honored in the International Gymnast's "Fitness Video of the Day" on Twitter.
What Paige was waiting for not only in the gym. "He wants to be a cheerleader," his father, Sean, told WSYX, "not only that, he also wants to swim and archery…"
Paige was not born as lucky as many of her peers, but her family always do their best to make her prosper. And of course, Paige always does her best for her parents' expectations and for herself.
"No matter what happens, you can still get through it" was what Paige meant to everyone through Zanesville Times Recorder.