Bad Salsa absolutely slayed the America's Got Talent stage with their quick footwork and dangerous acrobatic skills. The duo consisting of 15-year-old Sonali Majumdar and 21-year-old Maraju Sumanth from Kolkata, India have blown the audience away with there immense talent. Let's take a deep dive to learn more about this act that hopes to win season 15.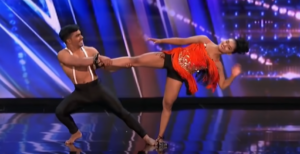 Bad Salsa Started At A Legendary Dance Studio:Sonali and Sumanth are dancers of Bivash Academy of Dance. This is where they get the acronym "BAD" from. Because we all know, their dancing is anything but bad. It is one of the best dance academies in India and helps train people who are interested in performing on reality talent competitions.
Their Mentor From Bivash Academy Of Dance Is Pretty Famous, The owner of Bivash Academy of Dance, Bivash Chowdhry has worked with many celebrities and contestants from other talent competitions including dancing superstar Akash who competed on India's Got Talent. He has said in the past that he admires Sonali and Sumanth for doing such dangerous acrobatic tricks. "It's a lot of risks involved. We used to be very scared initially, but with practice, the moves become easier," he said. Injuries can sometimes happen which was the case for Sumanth recently after he reportedly suffered an injury.
The pair practice anywhere from 8-12 hours a day. They not only follow a very strict practice schedule but also a strict diet on top of pursuing their studies. Sumanth is currently pursuing his graduation in English honors in India.
Bad Salsa completely took down America's Got Talent stage with their quick moves and dangerous acrobatic skills.