Candidate Renaz wants to sing her way from the sleepy village to the pulsating big city. At least that is what she decided to do before her appearance at the "Blind Audition". The young talent would prefer to move to New York.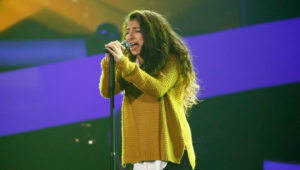 For her it could be the step into a great career, because at the moment she lives in a small village, from which she would love to escape, as she reveals in a preliminary statement "The Voice Kids 2014". "I live in a community of 1,177 people. Kastorf is mega small and a real cow village. We have more sheep and cows than residents. It's totally boring for me there." That's why her plan is to sing her way to New York.
"I dream of getting out of this town and moving to a big city like New York. I know New York from films and I love the tall buildings, the yellow taxis, etc. I just have to go there. It would be a dream for me to sing in New York, "enthuses Renaz. On Friday evening she could take the first step in this direction with the appearance at "The Voice Kids 2014", if she can convince at least one of the three coaches.