As Cara Hendriks belts out the "Like My Father" song lyrics in her blind audition for The Voice Kids, it pulls at the judges' heartstrings. And seeing this young lady singing straight from her heart is truly touching.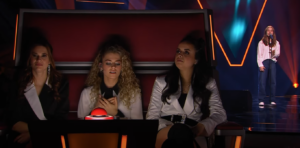 "I need a man who's patient and kind
Gets out of the car and holds the door
I wanna slow dance in the living room like
We're 18 at senior prom and grow
Old with someone who makes me feel young
I need a man who loves me like
My father loves my mom"
It's difficult not to tear up when watching this video. The lyrics to 'Like My Father' tell a story of a girl who has observed how her father has treated her mother. In this case, he's done all the right things to love well.
Cara Hendriks's unique voice glides over and under each note in this storytelling song. Her sweet whistle-raspy high notes are effortless.
The judges listen intently to Cara sing, and at the near end of her performance, two judges mime to each other and eventually turn their chairs.
Cara's gorgeous and one-of-a-kind voice is a breath of fresh air, but her sentiments for her parents are even rarer. Best of luck to this sweet teen and her career.