On August 17th Live Results (and after a fan vote), Yu Hojin was named as one of the 2 Best Acts of the week advancing to the Finals, along with the girl band Country Chapel Hart. They will join saxophonist Avery Dixon and country singer Drake Milligan on September 13 for the $1 million grand prize.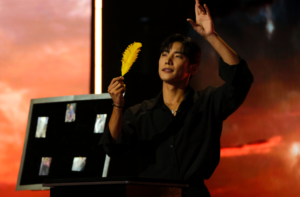 We first saw Hojin during this year's seventh round of Auditions when he wowed most of the Judges with his elegant feather illusions. However, Simon Cowell voted "No." But during the Live Shows, the AGT executive producer had a change of heart when the magician debuts a mesmerizing routine that he'd never performed before.
"I think I helped you," Cowell said. "By me saying 'No' at the Auditions, I think it has pushed you to be a better magician. And I'm very happy to say, on live television, I am officially an idiot."So, armed with the knowledge that he's proved Cowell wrong, what does Hojin have in store for us in the next few weeks? As it turns out, the Seoul native has been preparing for this competition for quite some time.
Yu Hojin delivers some of the best magic America's Got Talent has ever seen! Watch as Yu Hojin performs a brand new act just for you.
"I decided to come to America's Got Talent when I was in the army the last three years," he told NBC Insider."So, I believe in myself [I said] 'Hey, you can do it. So , let's make it happen.' So I didn't prepare only one Act, I prepared several things."