features a fantastic musical performance by the internationally acclaimed 'Celtic Thunder.' Their rendition of 'Happy Birthday Sweet Sixteen' captures the spirit of the original '60s hit by Neil Sedaka.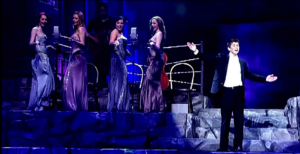 There are four female singers on stage in blue and lavender long dresses singing the song's background vocals. They have choreographed motions, and their harmonies are lovely.
The youngest member of 'Celtic Thunder' appears on stage. Damian McGinty hails from Derry, Northern Ireland, and he recorded his first 'Celtic Thunder' album at the age of fourteen.A band provides the accompaniment with upright bass, piano, drums, and guitar. The stage is designed with rocks to look like castle steps. Dark blue lights with stars flash in the background.
Damian is no stranger to fame as a singer. He had a guest-starring role in the 3rd season of Fox's hit show 'Glee.' His great stage persona can be seen in this performance of 'Happy Birthday Sweet Sixteen.'Damian sings the lyrics, 'Tonight's the night I've waited for because you're not a baby anymore. You've turned into the prettiest girl I've ever seen. Happy birthday sweet sixteen.' He works the crowd as he walks around the stage, sitting in front of the background singers and even dancing with the guitarist.