These 3 kids from the Philippines met on Filipino TV show Tawag ng Tanghalan and shot to fame with their incredible singing voices.
The TNT Boys, also known as The Big Shot Trio, made their debut on the tv show World's Best and were instantly a hit. TNT is a Filipino boy band made up of fourteen-year-old Keifer Sanchez, thirteen-year-old Mackie Empuerto, and twelve-year-old Francis Concepcion.
The boys hit every note with complete ease as they each started the song with a short solo section. Although the crowd was already cheering, when the three boys joined together and started harmonizing, the audience went crazy. American celebrity judges Drew Barrymore, RuPaul, and Faith Hill were wowed and couldn't believe their eyes – or ears.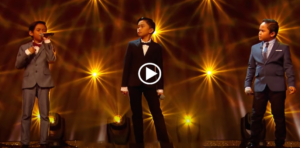 The adorable "TNT Boys" Sing Beyonce's Listen – will steal your heart with their ageless talent!