The best part of any competition show is when the adorable little kids get on stage. It's even better when these little tykes have actual amazing talent. Most of the time, they do covers of classic songs and it blows everyone away. In Russia on the children's version of "The Voice," one little girl got on stage and became a star.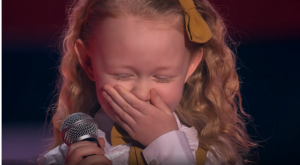 Agnia sings James Brown's song 1 Got You (1 Feel Good). The song was released as a single from the 1964 album Out of Sight and became Brown's most successful song on the charts. The song is based on Brown's earlier composition I Found You, which was recorded in 1962 by the backing vocalist of the singer Yvonne Fair. The song is included in Roling Stone magazine's 500 Greatest Songs of All Time. In the show "Voice" the song was performed four times, in "Voice. sung Timothy Sannikov.
From the opening note, Agnia sets a rock n' roll tone to fit the song. She begins her performance by letting out a wail fit for a queen, and she totally charms and surprises the judges.
Talented little girl performing precious and sassy performance of "I Feel Good"