After walking tiredly in the field, the sheep decided to go to the roof to "relax". Fortunately, they were brought down safely by firefighters.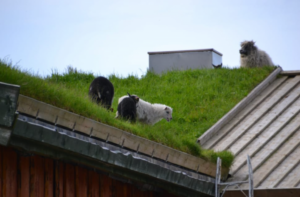 Firefighters can be very good at rescuing cats trapped in trees, but the task of bringing 5 sheep from the roof to the ground requires them to be a little more creative.
In Newmillerdam (near Wakefield, West Yorkshire, England), after being grazed, a flock of sheep somehow suddenly "landed" on the roof. When firefighters arrived, the sheep had been trapped for several hours. Fire station commander Damian Cameron even spotted one of the sheep falling to the ground at a height of 7.6 meters.
WATCH West Yorkshire firefighters rescue sheep stuck on house roof
Mr. Cameron did not have a team to help and was not equipped with the right tools, so he asked a local landowner for help. They built a temporary wooden bridge to bring the sheep back to the field.
With the techniques of the breeders, they managed to lure a sheep across the bridge. After that, the other 4 children also followed suit.
"It was a very unusual thing. I've taken on weird animal quests before, like rescuing a cow from a balcony. But honestly, I've never taken a sheep off the roof." – Mr. Cameron shared.
Currently, a temporary fence has been erected to prevent the sheep from climbing onto the roof.