Olesya, Ksenia, Valeria and Manizha perform the song Eye of the Tiger by Survivor. The song was released as a single from the 1982 album of the same name and became the title track of the movie "Rocky III".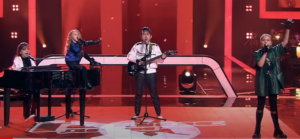 Sylvester Stallone himself asked the band members to record a track for the film after Queen refused to use the song Another One Bites the Dust. The song received platinum status in the United States, was nominated for an Oscar, and won a Grammy for Best Rock Performance by a Duo or Group. The group has repeatedly sued American politicians who used the song during their election campaigns.
Huge respect to Baste for the excellent song selection. All the participants were able to reveal themselves to the fullest. The number was a success. But how could you ignore the magnificent duet of Valeria and Manizhi? Of course, the girls received a great gift from him in return – recording five cover tracks of Basta's songs and filming two video clips. But Vasya deprived the viewers of the opportunity to hear this duet at least once again in the finale.
Olesya Kazachenko, Ksenia Shaplyko, Valeria Bazykina and Manizha Aminova. "Tiger's Eye" the best duet