Maëlle may have taken a big step towards victory in "The Voice 7" on Saturday night. The young girl, coached by Zazie, delivered a breathtaking interpretation of the title "Wicked Game" by Chris Isaak, all in power.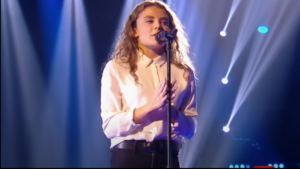 Maëlle had however passed discreetly during the previous round, without making too much noise. She had obviously hidden her talent well: the four members of the jury all rose in unison to greet her performance, Pascal Obispo being the first to congratulate her: "We fell from our chair with all the coaches.
You were at the top. But, Maëlle: who are you?" he launched, before Zazie delivers her surprise concerning her protegee: "It's a small UFO which descended on the set this evening. We can't part with you" she launched, before qualifying for the next round.