Led Zeppelin's "Stairway to Heaven" is one of the most famous rock songs ever and has been covered by many people over the years. No one could deliver a cover like Luca Stricagnoli.Luca Stricagnoli is a master of the guitar. Not only can he play exquisitely but he also uses his creativity to invent new ways to play the guitar. Watch as he breathes life into an iconic rock song.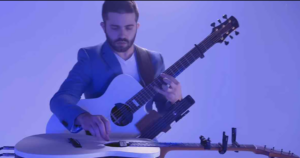 He uses a reversed sliding neck guitar which attaches to the base of his acoustic guitar to bring a unique sound to the famous song. It comes equipped with a sliding board to help him play.Another new instrument to the scene is a soprano guitar played horizontally while resting on a table. It only has high-pitched strings that are perfect for strumming the famous Led Zeppelin tune.
The notes of the song are crisp and clear. You can almost hear the band singing in your mind. Luca's version makes you feel like you are at a Led Zeppelin concert – without the noisy crowd!These instruments are incredible to behold. The most mind-blowing part is that Luca invented them himself! He uses his fantastic inventions to give his fans a cover unlike any other.
If you thought you enjoyed "Stairway to Heaven" before, you will never stop listening to this version. Once you listen to Luca Stricagnoli's guitar work, you will be hooked for life! WATCH