Female Power at "The Voice Kids"! The four talents of the band "Figolino" turned the stage completely upside down during their blind audition: not only did they sing beautifully, but they were a prestigious dance group, they also delivered a stunning choreography. training! Check out the girl band's energetic performance of "Na und ?!" by Ben Zucker currently exclusive online first.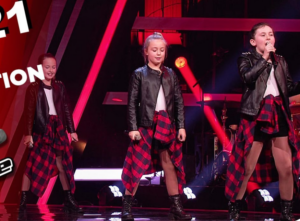 Four Girls, One Passion: Friends Lilly, Alina, Nika and Lara are "Figolino". The four kids, ages 10 to 11, have been practicing together for several years and rehearsing the performances they want to put on in front of an audience.
The four talents don't seem to be afraid of the stage. They masterfully combine choreography, acrobatics and singing and also have a lot of fun with their demanding choreography. During their many years of training, they got to know each other well and developed dynamism in their own team, because the four girls were very different in character.
Lilly, Alina, Nika & Lara as "Figolino"
While Lilly (10) describes herself as the madman of the bunch, Lara (11) offers an extra dose of cohesion: "If everyone fights, I'll fix everything."
Alina (11) knows there's a bit of chaos with every order: "Sometimes I bring a little disorder into the group," she admits with a laugh. Nina (10 years old) is the fourth member of "Figolino" and calls herself "balled up".
The talented quartet is not only very open-minded, energetic and spontaneous, but also very disciplined. They come up with vibrant choreography and sing together: "We've known each other for three years," Alina said. "We sing and dance."
"Live your dream": The solo song of the talented quartet "Figolino"The "Figolino" talents recorded their very first song with the help of coach Dana. It's called "Live Your Dreams".