Brandon Elder is an amazing songwriter who has an even more incredible story. Brandon is from Birmingham, Alabama with such an inspirational story and from a very early age, his biological mother was not able to take care of him. That's when she traded Brandon to a family for a car. But that family was not able to take care of him either and decided to put him up for adoption.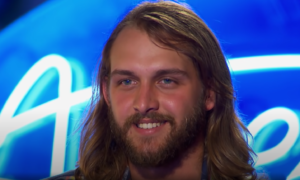 Over the years, Patricia was Brandon's rock, always pushing him to be the best version of himself and supporting him in every one of his pursuits, including music. Sadly, however, Patricia was diagnosed with cancer when Brandon was in college.
Without a second thought, the dedicated son left school to be by his mother's side and take care of her while she was sick. "I started singing a lot in front of her. She liked it so I just kept singing,"She fought hard, but ultimately, her battle against cancer just wasn't one she could win. Brandon turned to music for solace after losing the most important person in his life. he said
In Patricia's honor, Brandon wrote an original song called "Gone," and in a leap of faith, he took it in front of "American Idol" judges Katy Perry, Lionel Richie, and Luke Bryan. After getting a little background on his tragic story, the judges settled in for his audition, already in awe of his tenacity.
Fortunately, Brandon's hard work paid off because all three judges gave him a huge, "Yes!" This is just the beginning of Brandon's journey as a musician. The best part is that Brandon believes that no matter what happens, his mother will be watching over him.
Brandon Elder with His Original Song About His Mother Called "Gone" During an Emotional Audition on "American Idol"