Steve Harvey Asks 6-Year-Old To Sing For Her Mom – But He's Left In Disbelief When She Proposes A Business "Deal"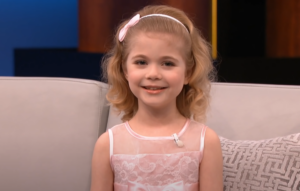 Ariana is one very impressive little girl. The pint-sized prodigy began kindergarten at just 2 years old. Now, at only age 6, she is already in the third grade. The young author, illustrator, singer, and songwriter first captured hearts on the U.S. version of variety series Little Big Shots, hosted by Steve Harvey. But when the comedian brought her back to appear on one of his other TV gigs, The Steve Harvey Show, the audience wasn't quite prepared for just how hilarious and endearing Ariana would be.
The segment begins with Ariana making her entrance by skipping over to Steve in an adorable pink outfit. The two politely exchanged pleasantries, Steve complimenting her on how nice she looked and Ariana replying that Steve was "handsome too".