When 14-year-old Benicio Bryant entered the stage on 'America's Got Talent,' it was obvious how nervous he was. Wringing his hands and more than a little flustered, he greeted the judges.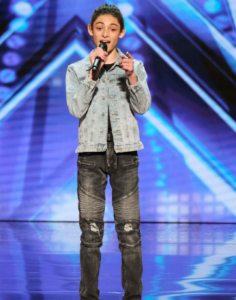 The opening notes to "The Joke" by Brandi Carlile began to play, and Benicio opened his mouth. That was all it took for Howie's jaw to drop.The panel recognized how nerve-wracking it can be in front of all those people, so they smiled warmly at the teen and asked about his talent. He told them he would be singing.
Gabrielle and Julianne sat in stunned silence, and Simon's face was unreadable, as usual. Benicio was not fazed by any of this, and his confidence only grew as he continued to sing.
The audience and the judges themselves were on their feet applauding his performance. Benicio was absolutely speechless at their reaction and couldn't stop smiling.
14-year-old boy on AGT gets standing ovation for phenomenal performance.