The internet's favorite father-daughter duo has YouTube fans envisioning a million dreams with their newest music video.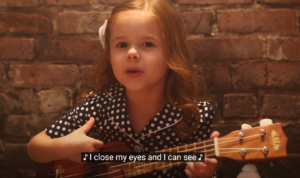 No one is denying the fact that Claire Ryann Crosby is already a little star in the making. She has been recording and releasing all types of adorable music videos ever since she was a young toddler. These videos always garnered millions of views within just hours of being released. Her videos have melted many hearts all over the world.
However, her newest video, "A Million Dreams," is a hit that is topping the charts. She performs the song, from the musical The Greatest Showman, with her father, Dave. Their duet quickly went viral. When you hear the rendition for yourself, you will quickly understand why everyone is talking about it.
Claire Crosby has been learning the ukulele recently and can show off her talent in her latest YouTube video.
5-year-old Claire teamed up with her dad, Dave Crosby, when they sang "A Million Dreams" on The Greatest Showman.