Never having sung on stage before or taken professional lessons, rock music lover George nervously went to blind auditions with mum Jodie Elliot (41) and dad Karl Elliott (41) from Walton and a sang Muse's hit song: Plug In Baby.
George said, "I'm a huge Muse fan so I wanted to make a Muse song that would suit my voice and it really ticked all the boxes. I was more nervous than I have ever been in my life during blind auditions. I was considering leaving because I was very nervous, but mum said, "'Are you sure you could go on?' And I said okay .. I didn't think anyone would turn around. "
After showing his potential, judges Danny Jones (of McFly) and Paloma Faith both pressed their "I Pick You" buttons to want to add George to their squads. Not expecting a judge to turn around and knowing Danny "was the man for him," George followed his heart and picked him.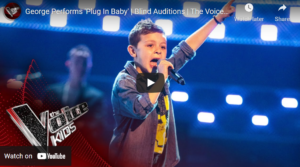 11-year-old George blows up the "Voice Kids UK" stage with the song "Plug In Baby"